Whats on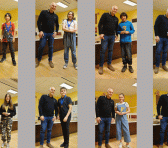 Essex & Great Tey held an had an awards night last week. The awards included:Best Beginner AwardAward […]
wku activities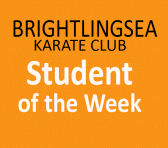 Check in here each week to see who has been awarded Student of the Week at Brightlingsea […]
faqs
+

What can Karate training give me?

Confidence, self esteem and a level of fitness to your own ability – not that of others.

+

What do I need to buy or prepare before I start practice?

First sessions tend to be T shirt and loose fitting trousers or track suit bottoms, club instructors usually have or certainly can get a Gi (white suit) for you.

+

Do you have tournaments?

Yes. The WKU have two tournaments a year but we are also invited to many more, including national events, run by the English Karate Federation – our governing body.

+

How long does it take to get a black belt?

How long is a piece of string? It depends on ability and how many times you train per week. Generally as you train and move up through the grades you will attend courses and train more times each week than a beginner would. I would estimate someone training a minimum of twice per week, attending courses as often as they can could be ready after about five years. Don't be fooled into these "Get your black belt in six weeks" type of clubs, that black belt is only any good for holding your trousers up!

+

What ages can train?

+

Are your instructors DBS checked and hold Personal Indemnity insurance?

All WKU instructors across the country have been verified through the DBS system and all instructors are PI insured.

+

I have some more questions / I am ready to join a club / I want to touch base, what is the number to call?

For further information you can contact the WKU Chair on 0117 985 9764.
wku officers
WKU President:
Dave Wheatley 8th Dan - Bristol Karate Club
---
Les Birkin 8th Dan - Colchester Traditional Karate Club
---
Alan Flook 8th Dan - Bristol Karate Club
---
Andy Gunton 7th Dan - Bristol Karate Club
---
Rob Smith 7th Dan - Griffin Karate Club>
---
Nigel Langson 6th Dan - Clevedon Karate Club
---
Kevin Barrett 6th Dan - Clevedon Karate Club
---
Mark Haynes 5th Dan - Bristol Karate Club
---
Ryan Lambotte 5th Dan - Jersey Wado Ryu
---
James Smith 5th Dan - Yeovil Karate Club
---
Jim Smith 4th Dan - Colchester Traditional Karate Club
---
Steve Ahearne 4th Dan - Jersey Wado Ryu
---
Maxine Baker 3rd Dan - Bristol Karate Club