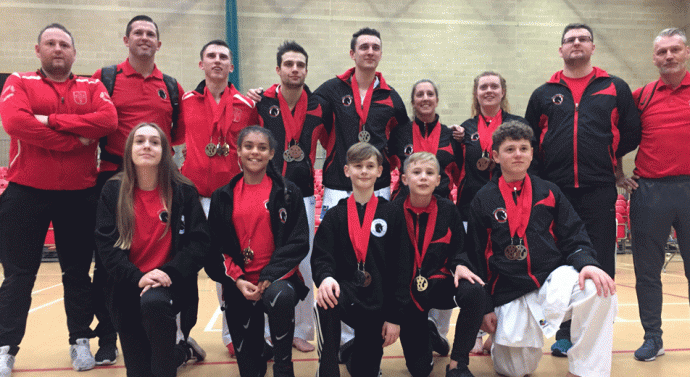 The WKU Winter Invitational Competition was held on Sunday 24 November 2019 at Hutton Moor Leisure Centre, Weston-super-Mare.
Many thanks to all clubs, competitors, judges and referees, WKU helpers, organisers, supporters, friends and family who worked hard to make this a successful tournament.
We look forward to seeing everyone again in the Spring next year.
Well done to all WKU squad athletes who competed .
WKU medal winners
GOLD
Mixed Kata Age 10-12 Up to 6th Kyu
SABIQ SHEIKH, YEOVIL KARATE CLUB
Girls Age 8-9 Up to 6th Kyu
FLORANCE PARSONS, YEOVIL KARATE CLUB
Girls Kumite Age 10-12 Up to 5th Kyu 40kg+
KENDRA JOHNSTONE, BRISTOL KARATE CLUB
Boys Age 13-15 up to 5th Kyu Open Weight
ANDRE CHINNICK, BRISTOL KARATE CLUB
Female Kumite Age 18+ 3rd Kyu+ 60Kg+
GEMMA CROSS, BRISTOL KARATE CLUB
Male Kumite Open Grade Open Weight
KYE CALLAGHEN, BRISTOL KARATE CLUB
SILVER
Mixed Kata Age 8-12 5th – 4th kyu
CASSIDY BACKHOUSE, CLEVEDON KARATE KAI
Mixed Kata Age 13-15 3rd – 1st kyu
CHARLOTTE HARMER, YEOVIL KARATE CLUB
Boys Age 5-7 Open
IVOR JOHNSON, BRISTOL KARATE CLUB
Girls Age 8-9 Up to 6th Kyu
RUBY LUCAS, YEOVIL KARATE CLUB
Boys Kumite Age 10-12 Up to 5th Kyu Under 40Kg
RYLEIGH LUCAS, YEOVIL KARATE CLUB
Boys Team Kumite Age 10-12
BRISTOL KARATE CLUB
– LUKEY SHEARER-BURGESS
– JAMES DIAMOND
– BEAUDHI GUNTON
Boys Team Kumite 13-15
BRISTOL KARATE CLUB
– CORY HAYNES
– ANDRE CHINNICK
Female Team Kumite
BRISTOL KARATE CLUB
– LAUREN BICKLEY
– SARAH ABDUGANI
– GEMMA CROSS
Male Team Kumite
BRISTOL KARATE CLUB
– BEN WELCH
– MITCHELL WYATT-SUGG
– KYE CALLAGHEN
Female Kumite Age 18+ Open Grade Open Weight
SARAH ABDUGANI, BRISTOL KARATE CLUB
Male Kumite Age 18+ 3rd Kyu + Under 70Kg
KYE CALLAGHEN, BRISTOL KARATE CLUB
Male Kumite Open Grade Open Weight
BEN WELCH, BRISTOL KARATE CLUB
BRONZE
Mixed Kata Age 13-15 5th-4th Kyu
CALLUM BACKHOUSE, CLEVEDON KARATE KAI
Mixed Shobu Jukuren Age 5-7 Up to 6th Kyu
ANNIE WANT, CLEVEDON KARATE KAI
Mixed Shobu Jukuren Age 8-10 Up to 6th Kyu
HENRY DIAMOND, BRISTOL KARATE CLUB
Mixed Shobu Jukuren Age 8-10 Up to 6th Kyu
MAISIE PERRY, CLEVEDON KARATE KAI
Boys Age 5-7 Open
CALVIN LEE, BRISTOL KARATE CLUB
Boys Kumite Age 8-9 5th Kyu+
NORMAN NATION, YEOVIL KARATE CLUB
Boys Kumite Age 10-12 Up tp 5th Kyu Over 50Kg
RAFI SHEARER-BURGESS, BRISTOL KARATE CLUB
Boys Kumite Age 13-15 4th Kyu+ 55Kg+
CORY HAYNES, BRISTOL KARATE CLUB
Boys Team kumite Age 8-9
BRISTOL KARATE CLUB
– OSCAR SURAI
– HENRY DIAMOND
– JOE STEEL
– REABEN GUNTON
Female Kumite Age 18+ 3rd Kyu+ 60Kg+
LAUREN BICKLEY, BRISTOL KARATE CLUB
Female Kumite Age 18+ Open Grade Open Weight
LAUREN BICKLEY, BRISTOL KARATE CLUB
Male Kumite Age 18+ 3rd Kyu + 70Kg+
BEN WELCH, BRISTOL KARATE CLUB