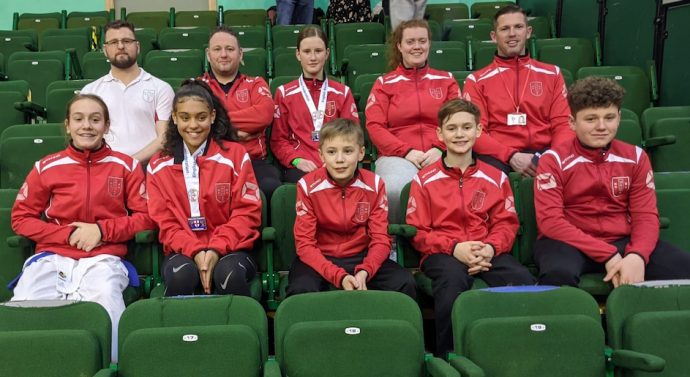 On 22nd/23rd February 2020 at Chase Leisure Centre in Cannock, the WKU Squad with Coaches Mark Haynes, Darren Haynes and Rory Daniels competed at the EKF Kyu Grade Championships.

The WKU Squad comprised of:
Seniors 
Lauren Bickley, Bristol Karate Club
Juniors 
Aston Prideaux, Bristol Karate Club
Izabelle Freyer, Bristol Karate Club
Dexter Freyer, Bristol Karate Club
Kendra Johnstone, Bristol Karate Club
Cory Haynes, Bristol Karate Club
Charlotte Harmer, Yeovil Karate Club 

Charlotte Harmer secured Gold and Kendra Johnstone Bronze.
Report from Squad Coach Mark Haynes: The Squad met at the Chase Leisure centre the competition was  busy with 46 clubs entering with a total entries of 592 competitors and 861 entries.
The competition was being ran over 2 days due to the size of it, all the junior competitors competed on the Saturday, leaving just Lauren Bickley our only senior fighter of the weekend to fight on the Sunday.
The seven member squad did the WKU proud with their behaviour over the whole weekend on and off the mat, they all fought well with good spirit, it showed that their hard work in the dojo has paid off, even though we only came away with 2 medals the squad has learned that competition at this level is no easy task they are developing as a squad well and we are sure that in the future we will see many more medals.