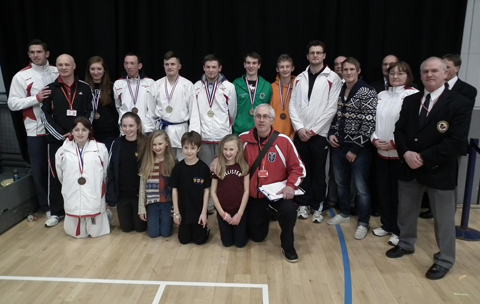 The English Karate Federation's 2nd National Kyu Grade Championship was held on 20th January 2013 at Ponds Forge in Sheffield.
Here is the report from WKU Squad Managers, Alan Flook & Wendy White:
Congratulations to all the WKU Students who were selected:-
Declan Scoulding – Gold
Lee Harvey – Bronze
Nick Stathers – Gold  
Rory Kavenagh – Gold
Bradley Summers – Bronze
Nicole Summers
Chloe Summers
Jack Howe
Lewis Ward
Sophie Ward
Holly Ward – Bronze
Charlie Smith – Bronze
Alice Sayle – Bronze
The standard of this Kyu Grade Championships was very high. The WKU Men's Team lost in the first round to the eventual championship winners.
This was followed by the Individual events.  All our squad performed with good spirit and enthusiasm which led to some brilliant results as you can see from the list above.
A big 'Thank You' to all the parents and Coaches who put themselves out on a very bad wintry weekend.
Pictured below:  WKU Junior Squad at the EKF National Kyu Grade Championships 2013 with WKU Coaches Rory Daniels and Darren Haynes