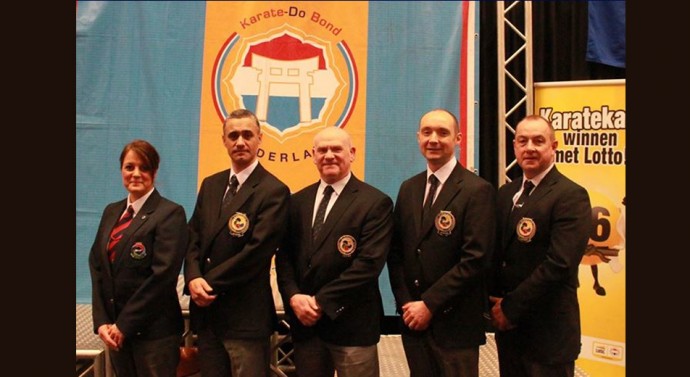 Referee Report: Karate Premier League 1, Almere, Holland, 2014
Competitions, Hot News, WKU News, WKU referee and Judges news
March 10, 2014
No Comments

on Referee Report: Karate Premier League 1, Almere, Holland, 2014
22
The weekend of 8-9 March 2014 WKU Referees and Judges travelled to Almere, near Amsterdam in Holland, for the Karate Premier League 1. The two day event had 740 Athletes attending. Some of these were reigning or former World or European Champions.  Main image shows Ivor Thomas, Brian Jarvis, Gary Hoyle, Nigel Blood and Dona Marshall attended the event. Here is the Karate 1 Premier League Dutch Open, officials report: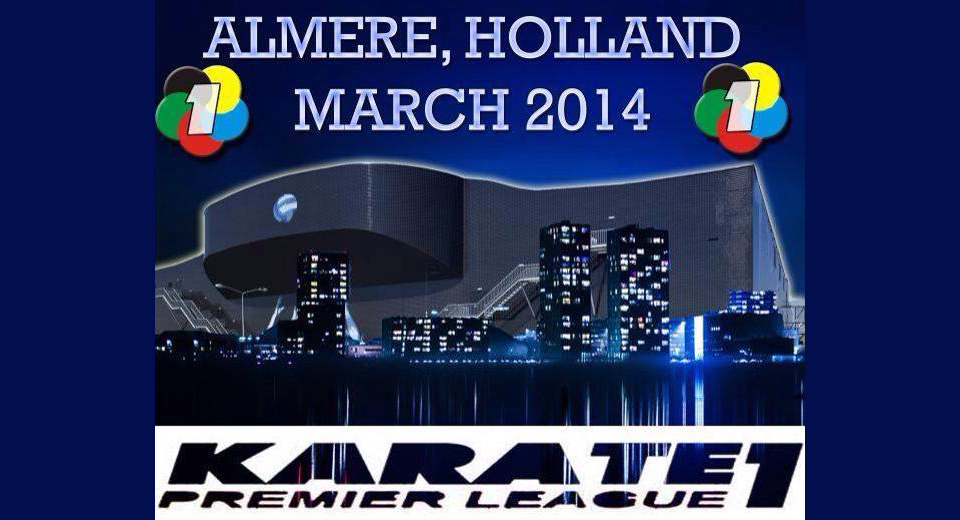 We all traveled out on the Friday before the competition from different parts of the UK, meeting up in Almere in readiness for what, with over 700 competitors representing 55 nations was going to be a very busy weekend of high class competition.
Saturday started with an 8am meeting at the venue for all Referees where key points of procedure and criteria for decision were discussed. We were also given our tatami allocations at the meeting, each put on one of the five tatamis in use over the weekend, working alongside officials from all over the world.
The venue in Almere was great, the arena was laid out with one central raised tatami surrounded with four others. The central tatami being used for semi finals, repecharge and bronze medal finals during the day. With five of us spread across the tatami's one person was going to have the luck of being on the central one. Nigel had been allocated to this tatami so had a great opportunity to be involved in some key matches and bronze finals.
The tournament started with the usual precision that Premier League events do, at 9am, and it was fantastic to see English competitors both for kata and kumite out in Almere in strong numbers for this prestigious event. Kata was the first event of Saturday and knowing that there were 108 in the male senior event and 82 in the female seniors, it was going to be a busy morning judging some of the best kata exponents in the world. All of the England officials were used extensively, demonstrating our ability to judge kata at this high level of competition.
On the central tatami, it was great to see England's Jonathan Mottram take a bronze medal 4-1 in repecharge after narrowly missing out on a place in the final in a very tight 3-2 semi-final match.
There was no let up after kata, straight into kumite, again with all of us getting lots of work on the mats – always a good sign that you're doing a decent job as performance dictates how often you get onto the tatami.
We saw more medal success for England in the kumite with Natalie Williams looking good for her bronze medal winning 8-2. A great result.
Finals were to be held in the evening on the central tatami, with the sense of drama enhanced by the hall being in total darkness apart from the tatami. This really made the finals even more exciting for those watching in the arena.
We were told that only European or World qualified officials would be used for the finals, with the Tatami Managers making their recommendations for who, from that pool, would be selected. Testament to our work, all four England officials who hold a European qualification were picked to be involved.
Ivor, Gary and Nigel all judged in a kumite final each while Brian had been selected for a tough mens team kata final between the Spanish and Italian national teams, Brian voting for the Spanish in a 3-2 win for them. Again, all of us performed well with good decisions under the added pressure of a central spotlit tatami.
Day one complete, everyone was pleased with what we had achieved. Particularly great that Dona, attending her second Premier League event, had proven to be very capable at this level.
There was to be no lie-in on Sunday with another 8am meeting for Referee Commision to de-brief on Saturday's officiating. Feedback from them was very positive and they were happy with the way things had gone. Some points were re-emphasised from the previous day to help optimise performance for the kumite categories to come that day.
Additionally there was some discussion about the previous day's kata, particularly about excessive breathing and clarification that for medal matches teams must bow outside of the area (jogai line) or it is a disqualification.
With fewer categories Sunday was to be a shorter, but no less intense, day following the same format as Saturday.
Again, all England officials were given lots of work and involved in many matches.
There were only four finals on the Sunday, again under darkened conditions in the arena, and Nigel was selected in the panel as a judge for a kumite final.
Sunday finished at 4pm, in good time for everyone to travel home to the various parts of the world they come from.
Overall it was a great trip for Dona, Brian, Ivor, Gary and Nigel representing the EKF Referees Department professionally and very capably, and once again, WKU contributing to karate at international level.