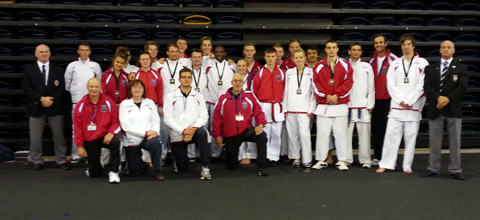 Those selected to go to Glasgow were:
Danielle Lee
Gemma Cross (Silver)
Niralee Kilsby (Bronze)
Charlie Smith
Aiden Summers (Silver)
James Govind-Somers
James Bowen (Gold)
Gary Toye (Silver)
Paul james
Sean Deady
Rachel Taylor
Chloe Carchrie
Lauren Bickley
Bradley Summers
Shaun Langson (Gold)
Ben Welch (Bronze)
Rhys Hopkins (Silver)
Mitchell Wyatt-Sugg (Bronze)
Ali Nyoni (Gold)
First, I would like to say a big thank you to Wendy for organising this trip; it ran very smoothly and that is all due to Wendy;s superb organisation skills.
The Friday night Team Talk went well and all the Squad were ready for the following day's action. Even though the Squad had had their fair share of injuries they all appeared in reasonable shape.
The new Emirates Stadium in Glasgow was the perfect venire for the Championships. As you can see by our results it we a very successful day for the WKU. Those who did not achieve a medal fought very well. Some fought for bronze medal position and just missed out. For a lot of our juniors it was their first major championship and I'm sure it will be a memorable experience for them.
It was very encouraging for the coaches (Darren, Wendy, Chris and I) to see how well this new Squad had gelled together – there was a lot of support from within the Squad. Well done to all of you.
Finally, may I take this opportunity to thank all the arenas and friends who supported the weekend.
Alan Flook