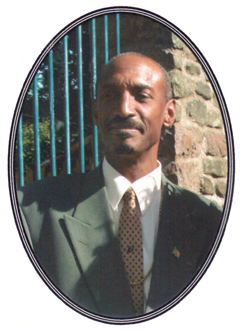 Max, as most people will have known him, lost his fight for life on the 13th April 2012. Max was a character, a legend and a legend that lived for karate. Even a couple of weeks before his passing he turned up at the Bristol Dojo to be there with old friends.
I would have met Max at school many years ago; he was a year bar one day younger than I am, we both attended St Thomas More School in Stotbury Road, Bristol, that too is no longer there. Alan, and the others at the Bristol club ,will go back far more than me, though I expect it would still be some 20 years that I have known Max. I class myself as lucky, as many others will, to have had him in our lives. I have been fed his mum's fish stew and also can claim to be the proud recipient of one of his carved walking sticks, that was in return for a bottle of white rum brought back from Antigua!
Many of us will remember helping at his Bristol University club. Often to referee when he put on a tournament, or just to support his courses that he held. More often than not, his phone would go, and I would end up taking the lesson – I expect to the relief of the students, as Max certainly put them through their paces. Max was there at most of the Bristol outdoor courses and you would expect to see him "lighting up" during the breaks!
At the church it was so plain to see how many people Max had an impact upon, standing room only and many outside in the rain. Lloyd "The Colonel" Russell was magic, he captured the different sides of Max in every way thinkable, and I mean every way. Max's sisters and friends had many tales to tell, perhaps it was a rare feeling to be laughing for most of the time at a funeral but that is what Max would have wanted. The joy was carried on at the graveside, the minibus serving some strange "blackcurrant" juice and a very strong sweet smell that may have come from the flowers!
Max was laid to rest in the West Indian traditional way, his friends covering him in his place of rest, back alongside the mum he did often speak of to me.
Thank you Max for being just you.
Kevin