On Sunday 27th January the first in a series of courses was held at Tickenham Village Hall for 1st Kyu and Dan grades who are working to progress to their next level at the summer grading. The course was well supported by members from Portishead, Yeovil, Clevedon and Esporta, with 28 members in attendance.
Chris Summers, James Smith, Nigel Langson and Kevin Barrett were the instructors taking the course, it was aimed at teaching the grading syllabus due to come into effect on this summer's Dan grading.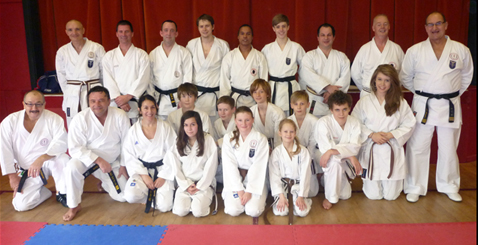 Prospective Dan grades from the course on Sunday 17th February 2013
There will be follow up courses held every month open to all clubs with their instructors permission until some time in June when they will be replaced by the courses led by Alan Flook, our Chief Instructor.
The next of these monthly courses is on Sunday 28th April 2013, 11.00 – 12.30, cost £1.00, at Bristol Karate Club Dojo, School Road, Totterdown, BS4 3BB.  All are welcome with their instructors approval. Watch the WKU website for reports and further details of this monthly course.