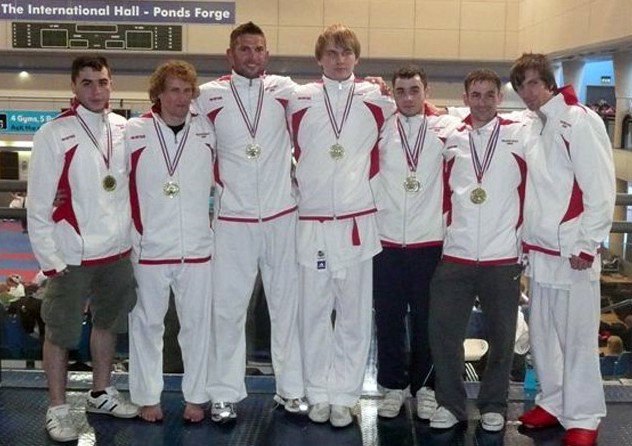 Great news at the recent British Championships held in Sheffield of the weekend of June 25th & 26th. Western Karate Union are now the English and the British Team champions. Again our squad were there as a tight knit family, supporting each other throughout the day. Wherever one was competing others were there to support. Results show the caliber of the squad that Alan, Andy and Wendy have, now with many younger members getting their experience and they undoubtedly will go further as they attend more competitions.
Team Gold, Sarah Clark, gold in the ladies -55kg, Paul James silver in the men's -67kg, Steve Heath silver in the men's -84kg and jamie Bowen bronze in the -60kg. There were many others there on the day that did their bit to help this squad be so successful. WKU reign supreme.
Nigel Langson & Ivor Thomas were flying the Flag for WKU Officials at the British Championships also, Ivor apart from Refereeing was also a Tatami Chief whilst Nigel was working with some of the top European and British Officials on his Tatami. After a very hot 10 hour day on the Tatami's both Officials were used in many Semi Finals & Finals on the day and came away with good reports from the BKF Referees Commission.