Coaches in attendance were Mark Haynes, Darren Haynes
WKU squad went to Leicester on 22nd June 2014 for the Wado Kai Competition. The fourteen squad members met between 8am and 9am for registration and the competition kicked off pretty sharp at 9am with the Kata.
Congratulations to WKU's Gemma Cross and Chloe Carchrie who both won gold medals in Kumite. Gemma Cross also won gold in Kata and Nabeel Uddin won Silver in Kata.
All the Squad fought well and we came away with just one injury of the day where Gemma Cross had to take a visit to Leicester Hospital, dislocated knee was diagnosed, hopefully a speedy recovery for Gemma, with some rest we will see her back in the dojo soon.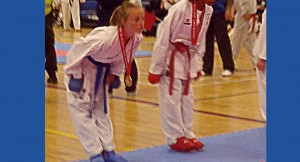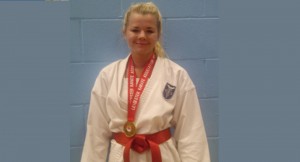 The Kumite Results are as follows:-
Team Male 18+ Gold (Anatoliy Cox, Rachel Taylor, Ben Welch)
Chloe Carchrie – Gold
Gemma Cross – Gold & Bronze
Rachel Taylor – Bronze
Billy Haynes – Gold
Sean Deady – Bronze
There were a few members of from Bristol and Oldmixon & Uphill who fought well on the day so hopefully we will see them at the next WKU squad training session.
Sasha Wyatt-Sugg From Bristol – Silver
The WKU Squad
Chloe Carchrie
Nabeel Uddin
Gemma Cross
Jack Richards
Lauren Bickley
Mitchel Wyatt-Sugg
Rachel Taylor
Ben Welch
Billy Haynes
Anatoliy Cox
Sean Deady
Bristol, Oldmixon & Uphill
Sasha Wyatt-Sugg – Bristol
James Alexander – Bristol
Cory Haynes – Bristol
Harry Littlewood – Oldmixon & Uphill
Aimee Carchrie – Oldmixon & Uphill