WKU Spring Invitational Competition 2018
Chief Instructor Alan Flook 8th Dan
Chief Referee Ivor Thomas  6th Dan – European Referee
The WKU Spring Invitational Competition 2018 was held on Sunday 6 April at Hutton Moor Leisure Centre, Weston super Mare.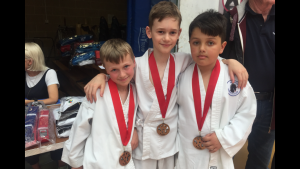 A big 'thank you' to all athletes and supporters who attended, especially those who travelled great distance to compete. Also to all those who helped set up and run the event – particularly those who attended the tables to allow for breaks. And our WKU colleagues who travelled from Colchester and the East of England to assist with running the event.

Well done to all the athletes who took part. We look forward to seeing you again for the next WKU Winter Invitational Competition in November 2018.
A more detailed report of WKU Squad medals will be uploaded soon.