The WKU Spring Invitational Competition 2019 was held on Sunday 5 May at Hutton Moor Leisure Centre, Weston super Mare.
Thank you to everyone who supported the event – athletes and their friend and families who attended, referees and officials, and all helpers on the day, especially those who traveled great distance.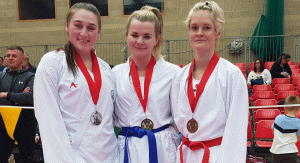 Also big thanks to all those who helped set up on Saturday. As always, we are grateful to table officials and those who covered their breaks. And particularly our WKU colleagues who traveled from Colchester and the East of England to assist with running the event.
Well done to all the athletes who took part. We look forward to seeing you again for the next WKU Winter Invitational Competition in November 2019.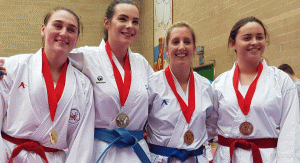 Please see the homepage gallery for more images of the day – many thanks to Paul Green for his photographs.
Well done to all the athletes who completed on Sunday.
Here are WKU medal winners:
KUMITE
Mixed Shobu Jukuren age 5-7 up to 6th Kyu
SILVER Florance Parsons Yeovil
BRONZE Anya Thorpe Bristol
BRONZE Ayo Garrick Bristol
Mixed Shobu Jukuren Age 8-10 Up top 6th Kyu
SILVER Ruby Lucas Yeovil 
Girls Kumite Open 5-7
GOLD Florance Parsons Yeovil
BRONZE  Madison Thorpe Bristol
Boys Kumite Open 5-7
BRONZE  Ayo Garrick Bristol
Girls Kumite 10-12 up to 5th Kyu 40KG +
GOLD Kendra Johnstone Bristol
Girls Kumite age 10-12 4th Kyu 40kg+
GOLD Izabelle Freyer Bristol
Boys Kumite 10-12 Up to 5th Kyu under 40KG
GOLD Dexter Freyer Bristol
Boys Kumite 10-12 4th Kyu + Under 40Kg
GOLD Aston Prideaux Bristol
 Boys Kumite 10-12 40-50KG
GOLD Ben Clark Bristol
 Boys Kumite 10-12 Up to 5th KYU over 50-KG
GOLD Rafi Shearer Burgess Bristol
Girls Kumite 13-15 4th Kyu + Under 54KG
SILVER Charlotte Harmer Yeovil 
Boys Kumite 13-15 under 55Kg
BRONZE Callum Mounce Yeovil
Boys team kumite 8-9
BRONZE Bristol
Boys Team Kumite 10-12
BRONZE Bristol
Girls team Kumite 10-12
SILVER Bristol
Bristol Female Kumite 18+ 60kg+
BRONZE Sarah Abdugani Bristol Female Kumite 18+ 60kg+
Bristol Female Kumite age 18+ Open
GOLD  Gemma Cross
Male kumite 18+ 3rd Kyu +70kg+
BRONZE Ben Welch Bristol
 KATA

Mixed Kata 8-9 Up to 6th Kyu
BRONZE Cassidy Backhouse Clevedon
Mixed kata 10-12 up to 6th Kyu
GOLD Jenson Backhouse Clevedon
Mixed Kata 13-15 Up to 6th Kyu
BRONZE Callum Backhouse Clevedon
Mixed Kata 13-15 5th-4th Kyu
SILVER Alex Bernie Clevedon
Female kata 13-15 3rd-1st Kyu
SILVER  Charlotte Harmer Yeovil