The WKU squad attended the UK Open Karate International Championships on Sunday 21st September, 2014.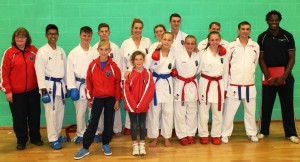 Congratulations to the WKU athletes –
GOLD – Shaun Langson -75
GOLD – Paul James -67
BRONZE – Rachel Taylor women's open
BRONZE – Charlie Smith 16-17
BRONZE – x2 Sean Deady individual and team 14-15
BRONZE – Lauren Bickley, Sophie Ward and Chloe Carchrie, 13 to 15 girl's team who won bronze in the kumite.
BRONZE – Jack Richards also secured a bronze medal in the boys 10-12 3rd kyu
BRONZE – Sophie Ward  individual Kata.
Congratulations to the WKU Squad and to all who gained medals at the competition.