Sakagami Challenge was held on Sunday 9th February 2014.
The WKU Squad met at the Parklands leisure centre at around 9.30am, the kata was on first so nothing much happened until about 12.30pm when all the squad got changed and ready for an afternoon of battles with some prize money at stake the pressure was on!
Squad Manager in attendance was Wendy White and the Coaches in attendance were Mark Haynes, Darren Haynes, Rory Daniels and Chris Summers.
A good day and some good results with two individual golds, six silver and seven bronze everyone fought well with the two gold medalists leaving £100 better off!
The main event "The Teams"… A good result for the 16-18 yr old team although it was just one fight off we still did what we had to do.
Unfortunately, both the senior teams were beaten in the semi finals and took bronze some good fights from all squad members.
Kata Results
Gemma Cross – Gold
Kumite Results
Gold:-
Mark McMahon
Ali Nyoni
Team: 16yrs to below 18yrs
Total 3 Golds
Silver:-
Ben Welch
Ali Nyoni
Aiden Summers
Mark McMahon
Danni Lee
Holly Carey
Jamie Bowen silver -78kg
Total 7 Silvers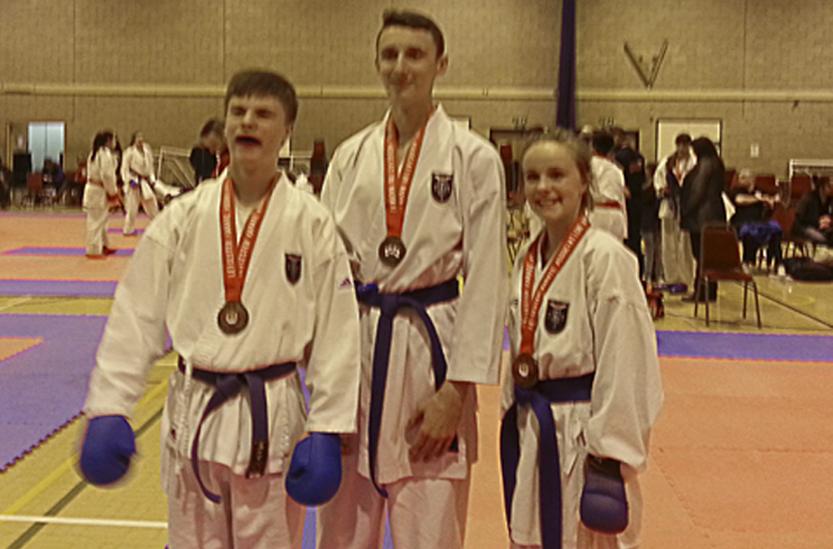 The 13-15 yrs team won Bronze (Chloe, Mitch and Sean)
Bronze:-
Gemma Cross
Bradley Summers
Chloe Carchrie
Paul James
Jamie Bowen
Sophie Ward
Holly Ward
Team A: Paul James, Danni Lee, Nick Stathers
Team C: Jamie Bowen, Mark McMahon, Holly Carey
13-15 Team bronze Mitchell Wyatt-Sugg / Shaun Deady / Chloe Carchrie
Total 9 Bronze