Clevedon Karate Club had a grading on Sunday 30th November, also the Student Of
The Year awards were presented.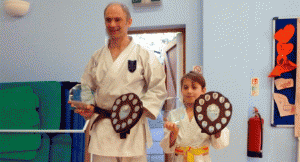 Congratulations to Piotr Oselka on gaining the junior Student Of
The Year , whilst John Green held with a family tradition winning the senior
award which two of his brothers have had in the past.
A great effort from all who graded on the day and well done to all of them.
Kevin & Nigel