The grading started promptly at 10am.
The successful candidates for 1st Dan were:
Shelby Kendal and Katherine Gildersleeve from South West Shotokan Karate
Nicole Summers and Lisa Allsop from Yokai Karate
Promoted to  2nd Dan were:
Charlotte Bane from South West Shotokan Karate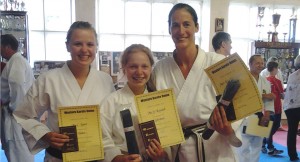 Charlotte Bane, Shelby Kendal and Katherine Gildersleeve
Josh Beck from Griffin Karate Club
Luke Jefferies from the Virgin Active/Clevedon club.
Promoted to 3rd Dan:
Mark Christie from the Clevedon club.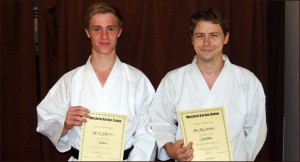 Members of Clevedon & Virgin Active Luke Jefferies who graded to 2nd Dan and Mark Christie who passed his 3rd Dan at the recent grading
Promoted to 4th Dan: Dean Moyes from the Colchester club.
Promoted to 5th Dan: Paul James from the Broadwell club
and also awarded his 5th Dan was Peter Hopkins from the Great Bently club.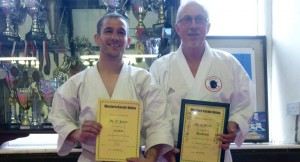 Paul James and Alan Flook
The icing on the cake for everyone there was when the WKU President Mr David Wheatley came forward and presented WKU's Alan Flook with his 8th Dan (Hachidan). WKU (and Bristol Karate Club) Chief Instructor, Alan was awarded the prestigious rank for his continuous and tireless dedication to the sport of karate. Many members of the Bristol club had also attended just for this moment and the round of applause went on and on.
I know that all of the WKU will be pleased to hear of this award, though I am not sure if it has yet to "sink in" to Alan himself.
Kevin Barrett