KSE8 Karate Championships, Gloucester, Sunday 1st March 2015
Competitions, Competitions, Hot News, Scoreboard, WKU Activities, WKU COMPETITION NEWS
March 2, 2015
No Comments

on KSE8 Karate Championships, Gloucester, Sunday 1st March 2015
0
The WKU entered a squad on Sunday 1st March in the KSE Competition in Gloucester , Bristol Karate Club also entered some younger members under the Bristol banner.
The kata squad consisted of Nabeel Uddin, Lewis Cocking and Callum Sarney.
Callum was up first in a nine to twelve year old group, having only becoming nine last week I would guess he was the youngest in his category! With a very strong Pinan kata Callum managed to get through the first round, in the second round he came up against a young girl who obviously had entered a lot more competitions and her experience deservedly won through. Next was Lewis, again a category of Purple through to black belts, he had the same result, through the first round with a very strong Wanshu only to lose to a more experienced competitor in the second round. Nabeel was our last from the kata squad, yet again a very strong and smooth flowing first kata and losing out in the second round.
All in all these squad members gained valuable "mat time", all three of them showed that they have great potential and should go a long way.
Younger kumite winners from Bristol Karate Club included Ben Clark U8's (Silver) – 2nd and Aston Prideaux U8's (Bronze) – 3rd  (pictured below)  Avani Kilsby also got bronze -3rd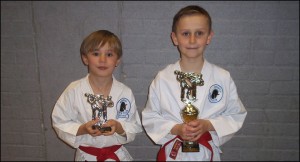 .
Jack, Lewis and Callum winning Gold in team Kumite 10-11yrs (pictured below)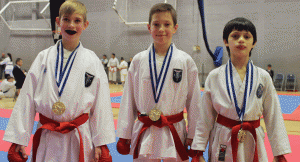 Shaun, Lauren, Charlie, Mitch, Nabile and Sophie winning Bronze in 15-17yrs Team Kumite – two WKU teams (pictured below)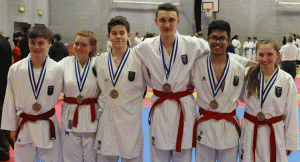 Holly Ward and Sarah Abdulgani both winning Bronze in Female Kumite 18+ category (pictured below)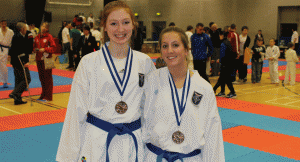 Rory Daniels, Sarah Abdulgani and Shaun Langson winning Gold in the Team Kumite 18+ (pictured below)