English Karate Federation Kyu Grade Championships, 25th January 2015
Coaches In attendance
Mark Haynes, Darren Haynes, Rory Daniels Chris Summers, Sean Langson
The Squad met at the Ponds Forge Sports Centre at 9am, after a quick squad meeting we made our way into the arena for a long day ahead!
All the 14 squad members who were representing the Western Karate Union did us proud, some of which were competing at national level for the first time, all were competing in their own categories, we also had two teams entered.
W.K.U Squad Members:-
Sean Deady – Bristol
Callum Maunce – Yokai
Lewis Ward – Yokai
Jack Howe – Broadwell
William Collins – Bristol
Charlotte Harmer – Yokai
Sasha Wyatt-Sugg – Bristol
Jack Richards – Broadwell
Mitchell Wyatt-Sugg – Bristol
Lauren Bickley – Bristol
Mikael Moon – Bristol
Charlie Smith – Bristol
Rachel Taylor – Bristol
Elliott Histon– Bristol
The kata was on first so not much happened until about 11:30am,the teams were called first. We had a team in the boys 10-11 years old were unfortunatly were knocked out in the second round.
The boys 14-15 years old team were up and in full flight fighting their way through to the final where we were beat 2-1 so we took a well deserved Silver.
We are pleased to say that everyone fought well, they all listened to the coaches and worked well on the area with some great results.
INDIVIDUAL RESULTS

GOLD Medals
Sasha Wyatt-Sugg Girls 12-13 yrs 7th – 4th Kyu
Rachel Taylor Ladies +68kgs 7th 1st Kyu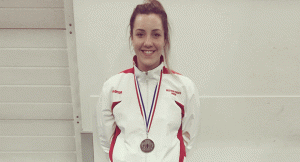 Mitchel Wyatt-Sugg Boys 14-15 yrs 3rd – 1st Kyu
SILVER Medals
Sean Deady Boys 14-15 yrs 3rd – 1st Kyu
Mikael Moon Boys 12-13 yrs 7th – 4th Kyu
BRONZE Medal
Charlie Smith Boys 16 – 17 yrs -68kgs
TEAM RESULTS
SILVER Medal
Boy's 14&15 years
Mitchel Wyatt-Sugg, Sean Deady, William Collins