The EKF Kyu Grade Championships 2017 were held on Sunday15th January in Sheffield at the Ponds Forge International Sports Centre.
The WKU Squad, along with our great army of supporters, stayed at The Premier Inn Hotel in St Mary's Gate, Sheffield City Centre. Everyone met for an evening meal before an early night ahead of a long day of kumite. In the morning after breakfast in our new track suits looking sharp and on point we met at the front of the hotel to get our taxis to the arena.
This year the EKF had their biggest entry of over 1000 competitors, as always the kata was on first with some great displays of kata from many different associations. The fighting kicked off eventually at around 1.00pm and our final fight of the day was at 7:30pm.
The WKU Squad is still a young developing squad with some newly selected members who were Aston Prideaux, Ben Clarke, Cory Haynes and Isabelle Freyer.
The existing WKU Squad members were Charlie Smith, Will Collins, Calum Mounce, Charlotte Harmer, Jack Howe, Avani Kilsby, Sasha Wyatt-Sugg,Lauren Bickley, Rachel Taylor.
Everyone represented the WKU with great etiquette attitude and spirit there were some great fight and good efforts, we also have learnt from what we need to work on for future competitions.
The results are as follows:-
SILVER
Sasha Wyatt-Sugg
Female Kumite – Cadet 5th to 1st Kyu/ +54kgs 14-15 yrs
Rachel Taylor
Female Kumite – Senior Open Grade/ +68kgs
William Collins
Male Kumite – Junior -5th to 1st Kyu/ -68kgs 16-17 yrs
BRONZE
Calum Mounce
Male Kumite – 5th to 1st Kyu / -45kgs – 12-13 yrs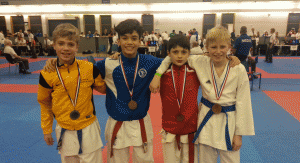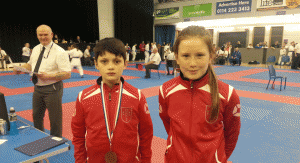 Avani Kilsby
Female Kumite – Open Grade/ -45kgs – Cadet 14-15 yrs
Jack Howe
Male Kumite – Cadet 5th to 1st Kyu/ +70 kgs 14-15 yrs