The 2013 Bristol Summer Course held on Saturday 6th July, was a fine, hot, sunny day. Everyone who attended worked hard in spite of the soaring temperatures. WKU's senior instructors delivered excellent techniques and tips throughout the day. Congratulations to kyu grades who advanced their grades during the course.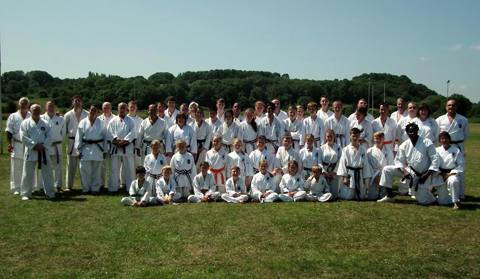 Sunday 7th July saw the Dan Grading at Bristol Karate Club's dojo. This year there was a big group of both Kyu grades hoping to achieve Shodan as well as many senior dan grades
WKU Chief Instructor, Alan Flook, led the grading panel and the students worked with effort and concentration to achieve some great results.
Dan Grade passes were:
Godan
James Smith
Chris Summers
Yondan
James Smith
Russell Hawkes
Gary Doughty
Michael Elliott

Nidan
Gemma Cross
Aiden Summers
Ollie Guy
Sarah Brueford
Mark Rendell
Keely Guy
Steve Ward
Shodan
Nadia Guy
Robert Porteous
Max Morch-Monstead
Sophie Ward
Nabeel Uddin
Bradley Summers
Matthew Graham
Holly Ward
Allan Carchrie
Paul Green
Many congratulations to all.
The WKU website gallery will be updated with any pics of the Summer Course and Dan Grading, as they arrive.
Pictured below: James smith 4th dan, Russell Hawkes 4th dan, Colchester's chief instructor Les Birkin & Mathew Graham 1st dan
and here are the Yokai dan grades: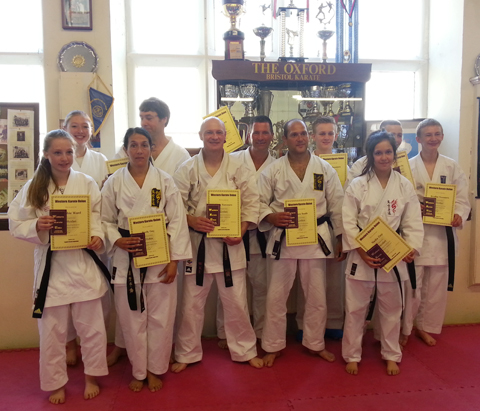 and the Clevedon Karate Club dan grades – Rob, Paul and Max.